Roll over image to zoom in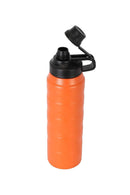 Description
Water Bottle thermo steel 900ml, Thermos Flask Water Bottle for Cold Water
With a sports cap with a drinking spout to ensure no spills, an ergonomically designed body for easy carrying and a no sweat body, the zest bottle is a great option for sports fanatics, school children, college goers and just about anyone who wants to add a dash of coolness to their day.
Clean and Convenient: Our lid combines the convenience of a wide mouth (for ice and easy cleaning) with the drinkability of a narrow mouth (for less spills). Grippy silicone band allows for easy opening, even with sweaty hands. And the leak-proof twist cap protects your beverage from spilling out and germs from getting in.
Strong Yet Smooth: Carry it, clip it, or swing it by your side. The stainless-steel pin in our handle makes this lid nearly indestructible, and allows the comfortable wide handle to have a smooth swing action. The pin also enables our innovative Hinge-Lock – which locks the cap out of your way for access to your drink with no smacking back into your face. Now that's refreshing.
Durable, yet lightweight: Our product just looks like glass, untill you drop it. It's durable, impact-resistant, and yet keep its lightness in your hands.
Simple, Safe & Stays cold: Double walled insulated bottle is made with professional-grade stainless steel and comes with a wider opening for faster refills. Includes our American Made Filter: 100% BPA & BPS free durable bottle construction, 100% FDA-approved food grade filter materials, 100% replaceable /recyclable, 100% gluten free, 100% vegan, 100% awesome! Want to get wild? Swap your filter from our "Urban" to our "Outdoor Adventure Filter" (not included) for your next adventure.
Features:
Thermosteel Bottle is made of 18/8 stainless steel form inside and outside for better heat retention and the double vacuum insulated body keep beverages hot and cold for longer hours

Easy to Clean and Maintain: The Milton Thermosteel bottle is easy to clean, Use a mild detergent or dish wash liquid and clean on the inside with a bottle brush

No Leakage and Odour Free: This Thermosteel Bottle has unique, leak proof technology, which make this product easy to carry at school, travelling and work, it is Odour Free and 100 percent Food Grade

Thermos Flask 900 ML(Approx) hot water bottle can be used at office, home, gym, school, college, or anywhere else you want to stay hydrated.it can be used by all type of age group like younger to Elder, Thermos Flask Steel Water Bottle can also use for Kids in School. (kids, collegian, officers, Children)

Suprior product with export Quality Package contains - 900 ml bottle colours available