Roll over image to zoom in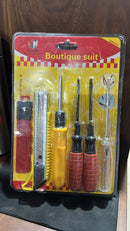 Description
Screwdriver And PVC Sheet Perspex Cutter Cutting Tool (Pack Of 4)
It manufactures high quality power tools and hand tools that are engineered for precision and durability. This spanner set is made with high grade chrome vanadium steel which makes it extremely rigid and ideal for heavy duty applications.This acrylic cutter knife for cutting acrylic sheets and other various purposes .extra Blades inside, This is having compartment under handle cover. Always draw the scribing knife along a straight edge. Break sheet over edge of table after scribing, Fiber sheets Cutter hook knife blade.Random color
Designed for optimum Industrial/Domestic uses

Better cap design-shape of plastic ensure the position of the clip.

Transparent material handle for better visibility for lighting

This acrylic PVC Sheet and plastic sheet cutter is a simple handy tool for both home purposes and art purposes.

Extreme ease of usage and simple to carry anywhere any time.

Performs an excellent job with fine definition.
Physical Packing Dimension

Volu. Weight (Gm) :- 245

Product Weight (Gm) :- 155

Ship Weight (Gm) :- 245

Length (Cm) :- 28

Breadth (Cm) :- 14

Height (Cm) :- 3