Roll over image to zoom in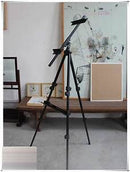 Description
Portable & Foldable Portable Telescopic Easel Display Stand (A003)
Double-layer: Bigger object can be held because it is displayable in two different layers in terms of height.
Sturdy: Lightweight aluminum alloy (30%+ lighter and more resistant than other metal), upper spring clamp and non-slip rubber feet get things fasten in the right place.
Tall : 33" height is comfortable to stand and paint especially for tall user. Meanwhile, it can also be used on the tabletop or any height in between.
Easy Carry & Setting Up: Compact design is great for carrying around. The height can be handily fine-tuned.
User-friendly: Thoughtful spare parts, user manual and odorless carry bag provides better user experience than any other in the market.
Easel Master
Round Pipe
Can Hold Article
up to 860mm (Approx. 33 inch) Height
Adjustable amd Portable
Heavy & Sturdy
Rust Free
Can be used for
Canvas Board
Stretch Canvas
White, Black, Display & Notice Board
Features:
Fully Adjustable and Collapsible Easel Made of Powder Coated Prime CR Steel Pipes and ABS/Nylon Plastic Parts for Excellent Strength and Stability.

Sturdy Steel Tripod With Minimalistic Design and Telescopically Adjustable Legs for Height Adjustment. A Highly Portable and Economical Solution for Artists, Designers and Students. Can Also be Used for Advertisement/Display Purpose at Exhibitions, Showrooms, Offices, Schools, Restaurants and Public Places.

Folded metal is made of high quality lightweight metal.

Spring Loaded Top Clamp secures canvases in place. Adjustable height, is perfect for floor stand or table top display.

Easy turn adjustable knobs for quick height & angle adjustments.