Roll over image to zoom in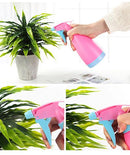 Description
Multipurpose Home & Garden Water Spray Bottle
This is ideal for indoor gardening as well as other uses .Adjustable nozzle can be set for a mist spray or a long pointed spray. Can be used for gardening, for personal use and for home and cleaning use. Used mainly to water / shower - flowers, plants vegetables. 
Features 
Multipurpose Home Garden Water Spray Bottle for Cleaning Multipurpose manual liquid sprayer
It can be used as water spray bottle for plants / water spray bottle for Gardening / Water spray bottle for Hair / Water spray bottle for garden / Sprayer / Hand sprayer / plant spray bottle / Garden Spray Bottle.
Overall it this spray bottle could prove to be a very useful tool for your home.
Very Convenient and Good Choice for Garden Lovers.
Can be used for Gardening, for Personal use and for Home and Cleaning use.
Physical Dimension

Volu. Weight (Gm) :- 464

Product Weight (Gm) :- 57

Ship Weight (Gm) :- 464

Length (Cm) :- 12

Breadth (Cm) :- 9

Height (Cm) :- 21