Roll over image to zoom in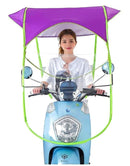 Description
Universal Bike and Scooter Umbrella Canopy 
Much better than those open bike umbrellas which can still get you wet and dusty. Road runner Canopy equipped biker does not need a raincoat nor a sun umbrella. Protects Motorcycle / Bicycle riders from the Sun or Rain and Dust High-tech Anti-UV Coated fabric for coolness. Steel Frame bolts onto side mirror brackets and ties onto back carrier Zippered front windshield side that can be opened when biker feels hot or unclear and closed in strong rain or dusty environment. Well designed wind resistant steel frame neon green trim and high visibility reflector at rear for extra safety
Features :
Big brim design: The big brim supported by a flexible support frame can effectively prevent rainwater from dripping directly on the front block to affect sight. The material is strong and bold. Pressure-resistant and anti-corrosion, strong support, play a good role in stabilizing the umbrella.

Detachable: detachable design, easy to disassemble, can be removed when the weather is comfortable, can be installed when the weather is cold, multi-purpose umbrella; double open zipper head design, waterproof and rainproof in sunny days.

High quality: The awning skeleton is usually very thick, the wind is strong and stable, the front and rear windows and air circulation help and reduce resistance, high temperature and sun resistance, rugged and effective waterproof.

Universal: Simple suitable for most mobile scooters, motorcycles, bicycles, external waterproof, internal heat reflection cover reflects heat, long hat, solves the direct sunlight in summer, effectively prevents rain, and avoids the transparent film on the front covered with water drops.
Physical Dimension

Volu. Weight (Gm) :- 7498

Product Weight (Gm) :- 990

Ship Weight (Gm) :- 7498

Length (Cm) :- 78

Breadth (Cm) :- 60

Height (Cm) :- 8