Roll over image to zoom in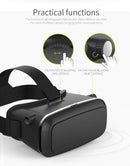 Description
VR Pro Virtual Reality 3D Glasses Headset
COMFORTABLE DESIGN, three adjustable straps can distract part of pressure from the bridge of nose, super face foam protector, ideal heat dissipating design. Free nose padding The specially designed lenses require no adjustment what so ever, compartment also big enough for most prescription glasses if needed COMPATIBLE WITH ANDROID AND IPHONE with 4.5 - 6.3 inch screen, more than 300 virtual reality apps on Apple App Store and Google Play Store for you download to enjoy shocking 3D effect. turn your smartphone into a virtual reality viewer. You can experience the immersive, fun and exciting world of VR. COMPATIBLE WITH ANDROID AND IPHONE with 4.5- to 6.3 inch screen, more than 300 virtual reality apps on Apple App Store and Google Play Store for you download to enjoy
Features :
Now you can adjust pupil distance up to and object focus distance up to (34-44mm) for individual lenses. Also, you can adjust lenses according to your eyesight.

Premium mesh cloth design adds a trendy look to Irusu Play VR Premium 2020.

Touch button helps user in triggering the actions in VR for example play/pause the video, to select next/previous videos.

3 Way Adjustable head strap gives a comfortable user experience, one can adjust based on their requirement.

This VR headset is compatible with all VR supported mobiles which have a gyroscope sensor and mobile screen (up to 6.5 inches, 165mmx75mmx12mm).

The picture quality depends upon mobile screen resolution, videos with high resolution (above 2K) and rightly done VR content.
Physical Dimension

Volu. Weight (Gm) :- 784

Product Weight (Gm) :- 485

Ship Weight (Gm) :- 784

Length (Cm) :- 22

Breadth (Cm) :- 16

Height (Cm) :- 11